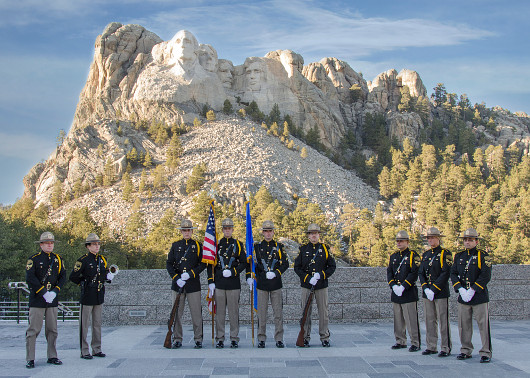 The Pennington County Sheriff's Office has 384 employees, an annual budget of approximately $30 million, and serves over 100,000 citizens spread out Across Pennington County's 2,776 square miles. We also serve a high number of visitors and tourists to our area as Pennington County is home to Mount Rushmore National Monument and Ellsworth Air Force Base.
The Sheriff's Office is divided into the following four divisions:
City/County Alcohol & Drug Programs (CCADP) - provides a safe place for individuals struggling with the difficulty of addiction. CCADP houses the City/County Detox Center and serves a host of other individuals through various treatment programs. We currently have a capacity of about 110 beds.
Jail - We are very proud of the fact that our 624 bed jail complies with the national standards set by the American Correctional Association (ACA), which safeguard the life, health and safety of our staff and individuals incarcerated within our jail.
Juvenile Services Center (JSC) - Also ACA accredited, JSC helps our detained youth with programs designed to enable them to make wise decisions for a positive future. JSC is a 6 county compact that is operated by Pennington County. JSC has a capacity of 106 beds.
Law Enforcement - Whether it's serving civil papers, warrants, patrolling Pennington County or investigating crimes, our employees in the Law Enforcement Division are always ready to assist Pennington County residents and our many visitors.
| | |
| --- | --- |
| | |
| Chief Deputy Brian Mueller | Chief Deputy Willie Whelchel |

At the Pennington County Sheriff's Office our goal is for each of our staff to be professional and to have a high standard of commitment to our community. We invite you to explore our website and become more familiar with us and the many services provided by the Pennington County Sheriff's Office.